An Apple ID is used among services like iMessage, iTunes Store, App Store, and FaceTime calls, and iCloud backup on the iPad, iPhone and other iOS devices. Without an Apple ID, you cannot download and install apps, movies, music, and books on the iPhone or iPad. If you are a smart and skilled Apple fan, you should know that you can change your Apple ID to get more services desired in the App store. For example, you might need to change your Apple ID to get an exciting app or tool offered only in another country. Also, if you are going give an iOS device to someone else, you'll probably want to change the Apple ID on that device so that it is no longer related to yours too.
There are really plenty of scenarios where changing the Apple ID on an iPhone or iPad is necessary or otherwise makes sense, so let's learn exactly how to do that.
Part 1: How to Change Apple ID Associated with an iPhone or iPad
Step 1: Launch the "Settings" app, and select "iTunes & App Store."
Step 2: Then, you will see your Apple ID appear at the top of the screen. Tap on it.
Step 3: That will bring up a popover menu, select the "Sign out" button. This will logout your existing Apple ID.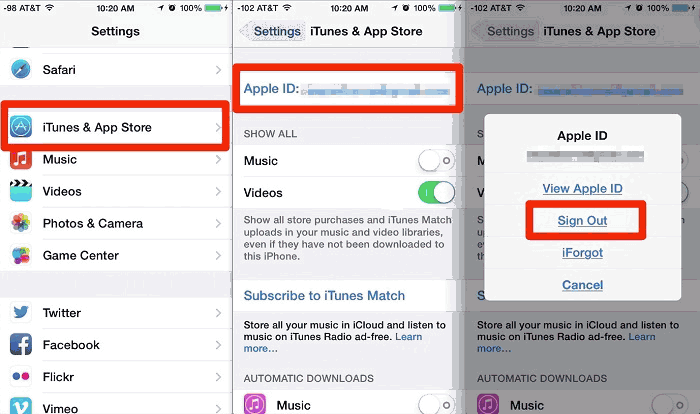 Note
If you forgot an Apple ID password, you can tap the iForgot option or go to https://appleid.apple.com or reset the Apple ID password.
If you don't have another existing Apple ID, you can create a new one by tapping on the "Create New Apple ID" button, which automatically logs in with the new Apple ID when finished. Here are the details.
Part 2: How to Create a New Apple ID on iPhone/iPad
Step 1: Tap on "Settings" on the Home screen
Step 2: Scroll down until you see the "iTunes & App Store", click on it.
Step 3: If you've already signed in with an iCloud account, then click on "Sign out".
Step 4: After that, tap on "Create New Apple ID".
Step 5: Find and select the desired country, and then click on "Done" to confirm your option. And then select "Next" to proceed.
Step 6: Then you can read over the iTunes Store terms and conditions and tap on "Agree". Now you can enter your email address, password, security questions &answers, and your birth date.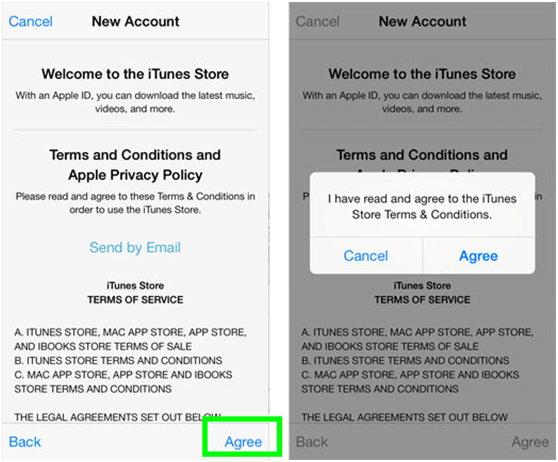 Step 7: Enter your billing information. You will be asked to provide a debit card, iTunes gift card, or iTunes gift certificate in this step.
Step 8: Login your registered email account and you will see an email says "Please verify the contact email address for your Apple ID." Click on the link to verify your account.
Step 9: Go to the Apple website, and sign in with your Apple ID and password. Click on "Verify Address".
Part 3: How to Remove Apple ID
It is possible that you forget the Apple ID and the passcode so you are unable to start up your iPhone and change a new Apple account. Or, if you may think steps above are too complicated and you want a faster way.
It is a program that specializes in unlocking the locked screen, removing the Apple ID and Screen Time passcode. If you want to sign in a new account on your iPhone, you can use it to remove Apple ID first and created a new account. Let's see how it works.
Step 1: Download and install Passvers iPhone Unlocker.
Step 2: Choose Remove Apple ID from the three options.
Note
Wipe Passcode is used for wiping the screen password and Screen Time is for resetting the Screen Time passcode.
Step 3: Click Start to continue and Passvers iPhone Unlocker will start removing the original Apple ID. Wait till the process finishes.
Step 4: When it is done, you can start up the phone without entering the Apple ID or password. It is so easy that within 3 clicks and your Apple ID will be removed.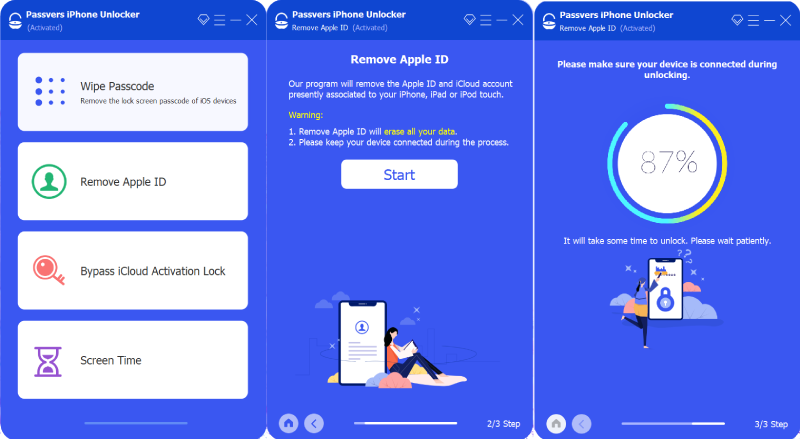 Now, you will need to enter the screen passcode on your iPhone to do the initial settings. If you have created a new Apple account by following [Part 2], you can log in with the new Apple ID.
More Tips About Removing Apple ID with Passvers iPhone Unlocker
It is necessary to know the following things:
First, if the Find My iPhone is disabled, you can remove Apple ID in all versions of iOS devices and the data will NOT be wiped. However, things are different if the Find My iPhone is enabled:
For iOS 11.4 or later, the device is supported only if you have enabled two-factor authentication and screen passcode, and after removing the Apple ID, all your data will be erased.
For iOS 11.4 earlier, the device is supported and your data will not be erased.
Second, don't use Erase All Content and Settings function after removing Apple ID. Or it will be linked to the original Apple ID permanently.
Third, don't update or restore your device with iTunes after unlocking. Or it will be linked to the original Apple ID permanently.
That's all you need to do to change an Apple ID or to create an Apple ID on most of the iPhone and iPad models. Now you can sign in and sign out with a different ID in the App Store.