Passvers iPhone Unlocker offers the professional and stable capability to remove all sorts of iOS locks and facilitate device manipulation in restriction-free ways. Nevertheless, when you unexpectedly run into trouble and wish to remove iOS locks with Passvers iPhone Unlocker, you discover that the program takes charge of fulfilling the whole manipulation.
Is there a cost-free way to get Passvers iPhone Unlocker crack and get the activation license key without a subscription? You probably went online and found some cracked packages for Passvers iPhone Unlocker on unverified platforms claiming the availability to activate it for free. However, this may result in hidden risks of bringing in viruses and malware and putting both the device as well as your data privacy security in danger. Why not use Passvers iPhone Unlocker in secure ways with discounted pricing?
Is Passvers iPhone Unlocker Safe?
Prioritizing the security of the program installation and use should be a concern for many users before getting started with Passvers iPhone Unlocker. But please be relieved that the officially-released version is 100% reliable and safe!
Verified qualifications
The release of Passvers iPhone Unlocker has gone through strict security evaluation by authoritative organizations, which was rewarded as a clean and threat-free program offering 100% secure functions.
Privacy and data protection
Passvers iPhone Unlocker is strictly designed with advanced encryption techniques to protect data. It won't collect or abuse any user data without permission, greatly preventing privacy disclosure from happening.
Prevent malicious attacks
The program is also designed with strong anti-virus ability, which can efficiently eliminate attacks from malicious viruses, malware, or adware.
Legal to use
Passvers iPhone Unlocker's development and release strictly obey all laws and regulations. You can use it without any legitimate concerns.
The official Passvers iPhone Unlocker version is definitely safe to use. However, Passvers denied the launch of any Passvers iPhone Unlocker crack version by third-parties. Therefore, the security of these installation packages is not verified.
Cons of Passvers iPhone Unlocker Crack
Using Passvers iPhone Unlocker crack probably puts your device and data security at risk. Here is a simple conclusion on them as your references:
Installing Passvers iPhone Unlocker crack from unknown sources may bring in viruses or malware to attack your device and get the device algorithms in ruin.
Your data privacy is also facing the risk of being disclosed, especially when you mistakenly click on some fishing popups and turn to unknown sites filled with malicious plugins to grab your personal data.
You can't get instant program updates to enjoy the latest enhanced features to use the functions with improved experience.
As these third-party programs are not verified by Passvers officials, you will not get any support to resolve issues when you run into any trouble.
…
Get Official Passvers iPhone Unlocker at a Discount!
Replacing finding a pirate version or keeping wondering about a way to get a Passvers iPhone Unlocker crack full with security concerns, you'd better install it from the official to use with both security verification and powerful customer support.
All sparking features you can access in Passvers iPhone Unlocker
Work smoothly and powerfully on Windows and Mac systems in a majority of versions.
Wipe iOS screen locks of all types (digit passcodes, Face ID, and Touch ID).
Delete MDM profiles securely without notifying administrators.
Bypass iCloud activation lock in a password-free way.
Remove Apple ID, Screen Time passcodes, and iTunes backup encryption password with only 1 click.
Capable with a wide range of iOS devices, including the latest iPhone 15 models and iOS 17 system.
Offer a clear design and easy-to-follow instructions to wipe iOS locks without complicated manipulation.
Although Passvers hasn't release any free licenses to activate in cost-free ways, the program is equipped with free trial before confirming to pay for the subscription. Also, there will be some surprising sales events held on the website occasionally. Like the recent 2023 WWDC special sales, you can get Passvers iPhone Unlocker at a much lower pricing with a large 30% off discount!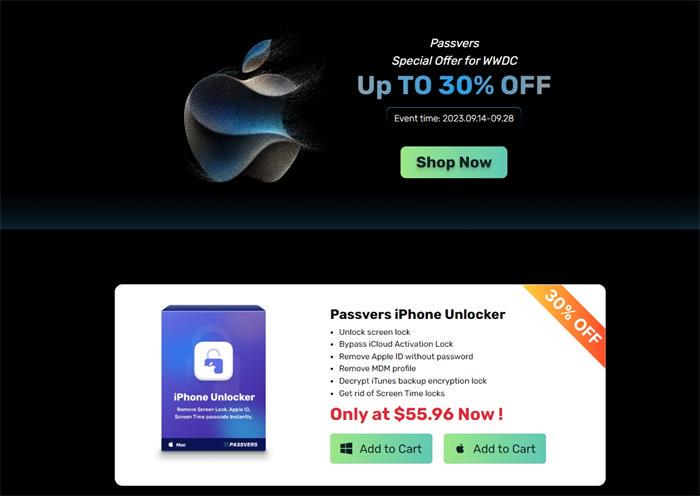 Prices and Plans for Getting Passvers iPhone Unlocker
To use Passvers iPhone Unlocker in a secure way, you are recommended to complete the program installation and subscription purchase from the official path only. As it offers a free trial to experience all provided functions, you can test Passvers iPhone Unlocker to evaluate whether it's the program you need without any charge before determining to purchase a license.
For satisfied users wishing to activate its registered version, Passvers also offers 3 optimal subscription plans to select flexibly:
| Plans | Pricing | Available Devices |
| --- | --- | --- |
| One-Month License | USD 35.95 | 6 iOS Devices, 1 PC/Mac |
| One-Year License | USD 45.95 | 6 iOS Devices, 1 PC/Mac |
| Lifetime License | USD 59.95 | 6 iOS Devices, 1 PC/Mac |
The online purchase is strictly verified and highly safeguarded. Once the billing is complete, you will receive a confirmation email with the license code attached.
Attention:
Normally, the license will be sent instantly once the purchase succeeds. If you fail to receive, please check your spam mailbox as well. You can also reach the support team to help when you find nowhere to receive the license.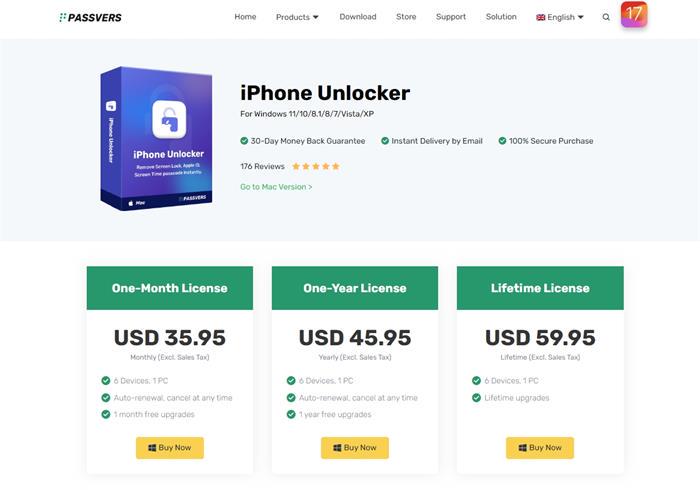 To activate the registered version, please run Passvers iPhone Unlocker and the registration window will pop up (if not, click on the activation button in the top-right place to open it). Subsequently, simply fill in your email address and the received license code to complete the activation.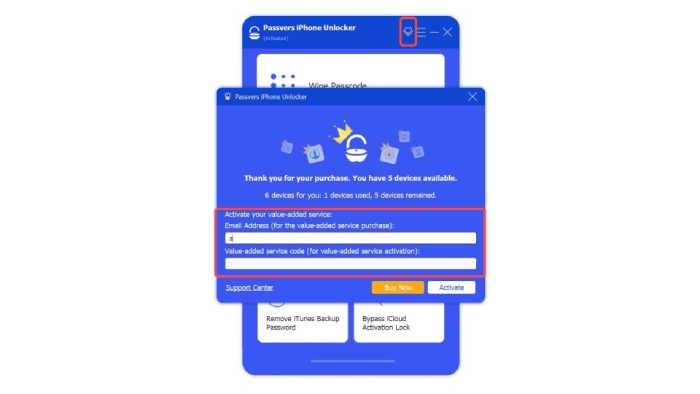 FAQs about Passvers iPhone Unlocker Crack
Is there a free Passvers iPhone Unlocker Crack?
Currently, Passvers doesn't release any free crack for Passvers iPhone Unlocker. Any versions you find from third-party websites are not verified by the official, and they probably contain malicious viruses or malware that would bring you security risks and face privacy disclosure. Also, you will not receive any official customer support if you install the program from unknown sources. Therefore, you are recommended to install and purchase Passvers iPhone Unlocker from the official platform and use it safely.
How can I get the original version of Passvers iPhone Unlocker to ensure success?
To successfully install the official Passvers iPhone Unlocker and activate its registered version, simply follow the procedures below:
Step 1. Turn to Passvers official website and find iPhone Unlocker to install its Windows/Mac version.
Step 2. Skip the trial first and experience any Passvers iPhone Unlocker function such as screen locks removal, iCloud activation lock bypassing, MDM profile deletion, and more for free.
Step 3. If you feel satisfied with the program, click on the purchase option in it, or directly go to Passvers online store to select your preferred subscription plan and complete the billing.
Step 4. Use your email and license code to activate the registered version and use Passvers iPhone Unlocker without any restriction!
Conclusion
For any of you seeking a Passvers iPhone Unlocker crack version, sad to notice that Passvers has not released any on third-party platforms. You will probably face security risks by installing the so-called Passvers iPhone Unlocker crack from unknown resources. Instead, to use Passvers iPhone Unlocker safely, you'd better complete the installation, purchase, or daily use all in official paths.