Have you ever run into embarrassing situations when you changed or forgot your iPhone passcodes and got the devices locked by accident? Under such circumstances, you must need help to restore or unlock your iPhone without utilizing passcodes. AnyUnlock, a popular iPhone unlocker, has provided a path to do it in one shot.
However, when you start with it, you may come across some confusion or questions to ask: is AnyUnlock a safe program? Is it worth trying? How can it be beneficial to help me unlock iPhone?
Don't worry! This complete AnyUnlock will answer all of them for you now! Please scroll down to read and learn more about AnyUnlock.
What Is AnyUnlock?
Developed by iMobie, AnyUnlock is developed as a desktop-oriented program, availing users to resolve situations when they have problems with some iPhone locks, including the screen locks, Apple ID, MDM lock, iCloud activation lock, screen time passcodes, and more under urgent situations. The program is one of the best iPhone unlockers that can remove them to let you access the locked information or messages once again. Don't consider it a complicated process because AnyUnlock has simplified the manipulation within 3 steps for you!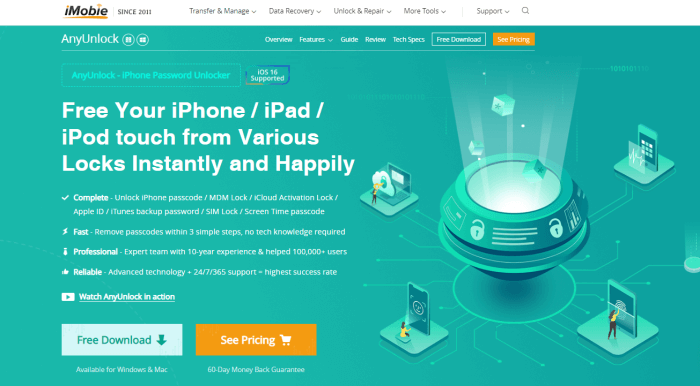 AnyUnlock Available in A Majority of Life Scenarios
Generally, AnyUnlock is possible to deal with almost all situations when you get your iPhone locked unexpectedly. No matter when you forget the passcodes to unlock the screen locks, get the device damaged, or get a second-hand iPhone without knowing the passcodes, AnyUnlock can give you a favor in dealing with them. In more life scenarios, AnyUnlock can provide easy assistance to get all locks removed from iPhone only by installing it on desktops.
Attractive Features of AnyUnlock
Thanks to some sparking features, AnyUnlock has accumulated a good reputation from a large amount of satisfied customers. Now, let me explain them explicitly to you.
Available to Unlock Most Types of iPhone Locks
Almost all locks that would be frequently utilized on iPhone devices, including the screen lock, MDM lock, iCloud activation lock, iTunes backup passwords, screen time passcodes, and even SIM lock, etc. The program can bypass and unlock them for you. From then on, you would no longer face trouble accessing any data because of forgetting the passwords on iPhone.

High Success Rate to Unlock iPhone Locks
When many competitors are actually failing to remove iPhone locks in most cases, AnyUnlock can ensure to complete the removal with up to an 80% success rate with certain sophisticated and advanced techniques utilized. You can reduce the failure in removing iPhone locks with the help of AnyUnlock.
Highly Value User Privacy Without Potential Disclosure
As the program will directly access your iPhone data, privacy would be a primary thing that most people care about. When AnyUnlock has enhanced its security system, the program will not record, copy, or illegally utilize your personal information. Therefore, AnyUnlock will not lead to any hidden potential privacy disclosure and cause your loss.
Easy Manipulation to Remove iPhone Locks
Don't consider it a complicated process to remove iPhone locks! With the advanced techniques utilized, AnyUnlock only takes you a few clicks to complete a removal task. Even for users who have never tried such a program before, you can handle it quickly and well.
Attention
Please note that the data will all be erased after removing the screen locks. So you should back up the important data before proceeding with the screen lock removal.
How to Use AnyUnlock to Remove iPhone Locks
In the following, I will take the manipulation example to lead you through removing iPhone screen locks to show you how AnyUnlock actually works. Please check.
Step 1. First, install AnyUnlock. Then you need to connect your iPhone with the computer through USB and enable AnyUnlock to detect the device.
Step 2. Select Unlock Screen Passcode from the toolkit menu. Subsequently, you will be guided to install the matched firmware according to your iPhone.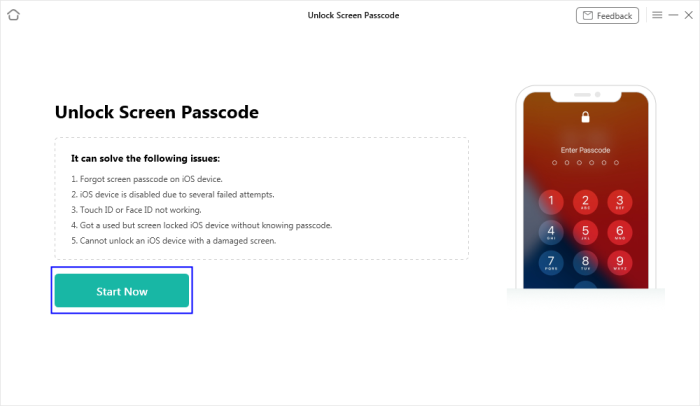 Step 3. When the firmware completes the download, confirm removing iPhone screen lock by clicking on the Unlock Now button.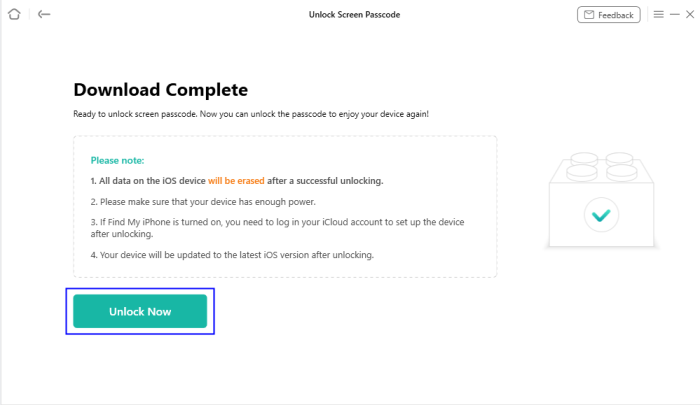 Once it complete and shows successfully removed window, the iPhone screen lock no longer exists now.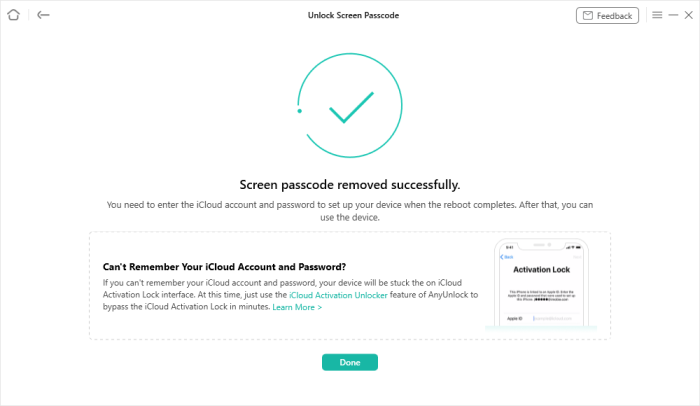 Limitations When Using AnyUnlock
The largest limitation of AnyUnlock should be the fact that it has restricted many features under the trial version. For example, AnyUnlock won't allow you to process the screen passcode, Apple ID password removal, screen time passcode removal, and more before subscribing to its full license. Many available unlocking features only work till the scanning completes.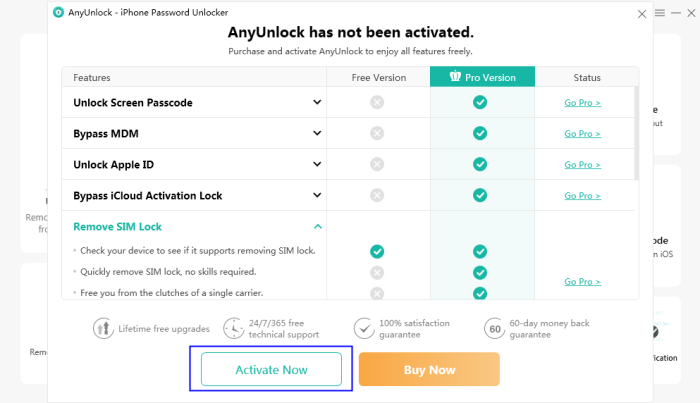 Is AnyUnlock Legit to Use?
AnyUnlock is mainly developed to resolve some unexpected situations when you forget about the passwords to access your own data. It is completely legit to use. However, if you use the program as a profit-earning tool and cause other people's loss, it is illegal and you are actually breaking the law.
Alternative to AnyUnlock: Passvers iPhone Unlocker
When AnyUnlock has embedded multiple features in one program, sometimes it may lead to a slower speed in processing the iPhone locks removal. Instead, Passvers iPhone Unlocker is able to deliver faster as well as smoother performance.
It's worth noting that, according to feedback from over 90% of users, Passvers iPhone Unlocker boasts an impressive success rate of 100%, with only a small fraction reporting occasional errors.
Moreover, this software is specifically designed to tackle a wide array of iOS device unlocking issues, addressing common challenges like forgotten lock screen passwords, purchasing second-hand devices without knowledge of the activation lock password, dealing with devices restricted by MDM, and more. Passvers iPhone Unlocker proves highly effective in resolving these issues and providing peace of mind.
The manipulation of Passvers iPhone Unlocker is similar. You can also walk through the procedures to unlock iPhone screen lock within only 3 steps:
Step 1. Connect iPhone to the computer after installing Passvers iPhone Unlocker. Please select Wipe Passcode and allow the program to detect your device.
Step 2. Tap Start to proceed with the device scanning and install the firmware package.
Attention
Before initiating the process, you ought to authorize the unlocking manipulation by entering 0000 code to confirm.
Step 3. Once the iPhone screen lock removal begins, please wait till the progress completes. It takes only a few seconds for Passvers iPhone Unlocker to do it for you.
Final Verdict
AnyUnlock is reliable to remove iPhone locks for its good compatibility with a majority of types of locks. It can help prevent many sudden situations when you fail to access iPhone because of losing or forgetting the passwords. But by comparison, from the performance speed and success rate, if you consider a better option, Passvers iPhone Unlocker is also perfect for trying. Please determine and choose one!