You must have such embarrassing times when you forget your iPhone passcodes or enter multiple times wrongly and got it locked. Under these circumstances, it would be time-wasting if you simply wait for it to unlock or ask anybody to help you remind the passwords. Therefore, many people start wondering, if there is a reliable program, which is able to give you a favor in unlocking your locked iPhone without passwords.
To our surprise, seeking an iPhone unlocker is not a tough job, as there are numerous programs provided to help solve such a problem, and iMyFone LockWiper is one of them.
So today's review will concentrate on iMyFone LockWiper, a popular iPhone unlocker to help you get into a locked iPhone once again. Please scroll down and double-check some details about the program before installing it.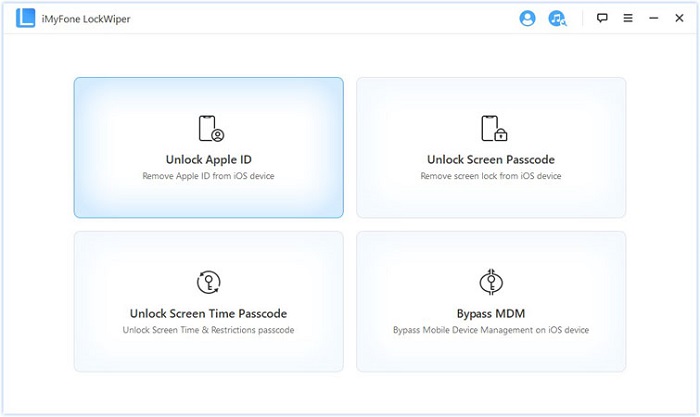 Key Functions of iMyFone LockWiper
iMyFone LockWiper is a iPhone unlocking tool to use when you forget about some passcodes that are needed to access data on iPhone, iPad, or iPod. More than screen passcodes, the program can also function to remove passwords of Apple ID, MDM lock, and screen time passcodes when you need:
Screen passcodes - whether you are utilizing the 4-digit/6-digit passcodes, Face ID, Touch ID, or Alphanumeric passcode, the program can bypass and remove them, so you can access the mobile data again.
Apple ID - when you forget about the password of your Apple ID, it helps you to delete it without entering the password and regain all your iCloud backups on a new account again just within clicks.
MDM lock - get tired of being restricted to access some practical functions on iPhone because of the MDM lock? Remove it in no time with the program, even without a username or passcode at all. Then all functions on your device will be accessible and utilized freely.
Screen time passcodes - if you forget about the passcodes of some screen time locks set before, the program can function to delete them all without erasing your device at all.
With iMyFone LockWiper, you don't need to worry anymore, even when you forget about some important passcodes on iOS devices. By installing it, it is possible to unlock them without requiring entering passwords again!
Attention
Some iOS locks removal may erase your data. You'd better back up your data regularly to avoid losing those important ones.
iMyFone LockWiper Works Under All Scenarios
After knowing what locks can iMyFone LockWiper help to remove, you probably wish to master when it can help, especially under different life scenarios when you lock up your devices by accident. But actually, the program can work well under different circumstances when you suddenly lock up your iOS devices, including the following ones:
You have forgotten your passwords.
The devices are broken.
The devices are locked after several wrong attempts.
You have a second-hand iPhone but don't know its passcodes.
The Face ID or Touch ID fails to be detected and lock the devices.
There are more situations where you can rely on iMyFone LockWiper to remove iOS locks when you need. This powerful program will bring you surprising help no matter how to get your devices locked!
Compatible With the Latest iOS Models
No matter what iOS devices you are utilizing, don't worry! iMyFone LockWiper is well compatible with the latest iPhone 14 and iOS 16 systems, enabling you to remove locks on the devices by simple manipulation. But please note that the program is not directly installed on your iOS devices. Instead, it is oriented for installing on Windows and Mac, then you ought to connect your mobile devices to computers and process the locks removal.
Restrictions of iMyFone LockWiper
Unexpectedly, iMyFone LockWiper provides better services to its subscribers than free users. Under free trial, users are only allowed to remove less than 4 types of iPhone locks, and you have to keep your device nearby while proceeding with the device unlocking. If you wish to utilize iMyFone LockWiper without such restrictions, a subscription fee starting at $29.95/month will be required.
Best Alternative to iMyFone LockWiper: Passvers iPhone Unlocker
Disappointedly, when some users have reported iMyFone LockWiper would fail to keep data for you while proceeding with the unlocking, those who don't want to lose their important data on the devices would feel concerned about this disadvantage. Therefore, if you wish to remove iPhone locks without erasing the mobile data, Passvers iPhone Unlocker is another rational option you can try.
Passvers iPhone Unlocker
delivers powerful unlocking functions to retain full data on your iOS devices while wiping several types of passcodes, such as Screen Lock, Screen Time passcodes, iCloud activation lock (which is even not provided in iMyFone LockWiper), and MDM restriction, avoiding higher potential in losing any important data.
Moreover, with more advanced techniques utilized, Passvers iPhone Unlocker has been confirmed to provide a higher success rate, which functions at a stabler performance to complete the iOS locks removal for you.
Therefore, if you consider another smoother and more secure way to unlock your iOS devices, consider Passvers iPhone Unlocker, and it will provide even more superior assistance to you.
FAQ: Is iMyFone LockWiper Safe to Utilize?
For sure. iMyFone LockWiper has developed advanced techniques to safeguard your data, without keeping, copying, or even leaking at all. The program highly values user information safety and will always keep the best status to protect user privacy.
To sum up, iMyFone LockWiper is still a reliable program with quick and easy-using iOS locks removal service provided. If you suddenly get a locked iPhone and wish to access the data again, iMyFone LockWiper is still a nice option. Please evaluate the program and determine whether to install it after reading this review.