There must be some situations when you forget about some locks on iPhone and wish to remove them without entering passcodes to access the device data again. For instance, when you have purchased a second-hand mobile device or mistakenly enter wrong passwords, which ends up locking up the devices by accident. Correspondingly, there are numerous helpful programs you can find on the Internet to help get out of such embarrassing circumstances, and Tenorshare 4uKey is one option for you. Today's review will mainly concentrate on the fundamental functions that Tenorshare 4uKey can provide to unlock iPhone locks on computers. You will also get a backup when you need a superior alternative to it. Now, please scroll down and keep reading.
What Is Tenorshare 4uKey?
Replacing a mobile application, Tenorshare 4uKey is a desktop program oriented at providing iPhone locks unlocking service. With it, you can cope with some sudden situations when you lose the passwords or forget about them to access the locked data. More than screen passcodes unlock,
Tenorshare 4uKey can function to bypass Apple ID, MDM locks, screen time passcodes, and more by easy manipulation. Generally, when you run into a majority of life scenarios locking up your iPhone or device services, like when you forget about the passwords or do wrong attempts to unlock iPhone, Tenorshare 4uKey can break the obstacles by removing the locks for you without passcodes required. So it's usually one of the best iPhone unlocking software in review lists.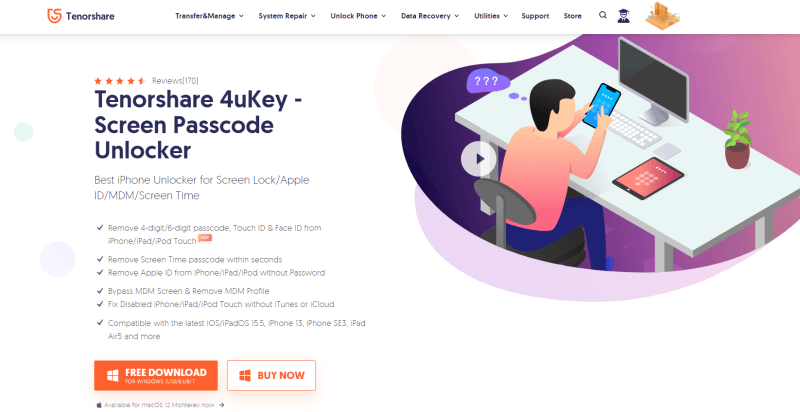 Types of iPhone Locks Tenorshare 4uKey Can Remove
Tenorshare 4uKey has listed some types of iPhone locks it can help you to bypass. Now, let me explain them explicitly to you.
Remove iPhone Screen Locks
The major iPhone unlocking function that Tenorshare 4uKey can provide refers to screen passcode removal. It gives favor in canceling them whether you are utilizing the 4-digit/6-digit passcode, custom numeric code, alphanumeric passcode, Touch ID, or Face ID. When you accidentally disable your iPhone, the program can help you wipe the lock and reopen it once again.
Factory Reset Without Password
When you get a second-hand iPhone and wish to factory reset it without re-entering a password, controlling through Tenorshare 4uKey can directly initiate manipulation even without logging your iTunes account or typing in passcodes to proceed.
Bypass MDM Login Screen
Mobile Device Management is a feature allowing you to remotely control another device or keep tracking it. If you wish to unlink with the locked device issued by others and get rid of being monitored by others, Tenorshare 4uKey provides effortless help to bypass the MDM locks without asking to enter a username and password.
Screen Time Passcodes Unlock
Some of you may have set different app time limits on iPhone. However, when you forget about the passcodes to unlock them, they can be messy and bother you a lot. Tenorshare 4uKey is definitely a trustworthy partner to erase them within 3 easy steps but with no data loss, bringing a lock-free iPhone to you again.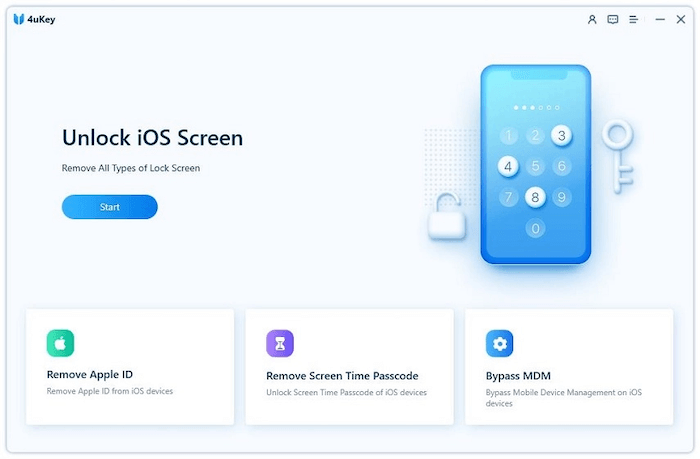 Pros and Cons of Tenorshare 4uKey
Concluded from its basic features and the testing performance, user reviews, the overall pros and cons of Tenorshare 4uKey can be concluded as the following list. Please read.
Pros
It functions to erase different types of locks on iPhone with easy manipulation.
No passwords are needed to remove Apple or iCloud ID.
Locks removal can still be processed even when your Find My iPhone feature is disabled.
High success rate is ensured to remove iPhone locks with fewer failures happening.
It is fully compatible with the latest iPhone models such as iPhone 14 of iOS 16 system.
Cons
Your device will be upgraded to the latest iOS version after processing the locks removal.
It would probably cause data loss after wiping iPhone locks.
iTunes app is required to be installed for the program to detect your devices successfully.
The program will erase all device data after wiping passcodes on the devices.
What Is the Pricing of Tenorshare 4uKey?
Since Tenorshare 4uKey is not an open-source program to utilize, you ought to access its unlocking services at a certain expense to purchase the license code. There are 3 plans that are currently offered on its online shop for users who intend to subscribe and utilize the full functions provided by Tenorshare 4uKey - for the lowest pricing at $35.95/month or in a long-term subscription at $55.95/year and $65.95/lifetime
Is There Any Better Alternative to Tenorshare 4uKey?
Tenorshare 4uKey does offer reliable assistance when you need to wipe some locks on your iDevices under some unexpected situations. However, some users have reported that the performance of Tenorshare 4uKey sometimes runs not stably at all, and it would probably lead to the failure in removing the locks frustratedly.
When Tenorshare 4uKey doesn't work as you expect, consider Passvers iPhone Unlocker a reliable substitute. This program also provides an effortless process in removing all types of iPhone locks, including screen locks, Apple ID, iCloud activation lock, MDM lock, screen time passcodes and so on, which brings a free iPhone/iPad to you.
Compared with 4uKey, Passvers iPhone Unlocker is superior in its amazing conversion rate and function stability. In addition, the lightweight design of Passvers iPhone Unlocker will not consume much CPU storage, which ensures smooth unlocking manipulation without lagging computer performance by sacrificing other programming abilities.
Passvers iPhone Unlocker also offers more affordable subscription pricing if you are gonna utilize it for a short while. Passvers only takes $45.95 on a yearly basis, which is $10 cheaper than 4uKey!
Please also take one more minute to preview how Passvers iPhone Unlocker works to unlock iPhone locks for you in easy steps:
Step 1. First, please install Passvers iPhone Unlocker and run it on computer. Meanwhile, you ought to connect your iPhone utilizing a USB cable, allowing the program to detect the device for further processing.
Step 2. Take the Wipe Passcode function as an example. After selecting it from the main feed, confirm connecting with your iPhone and tap Start to continue the next step.
Step 3. Now, you ought to install a firmware package in order to initiate the device unlocking. Please enter 0000 to confirm. Subsequently, Passvers iPhone Unlocker will automatically proceed with the lock removal for you.
Attention
The screen lock removal function will erase all your data. Please back up all important data before intimating the lock removal.
Final Verdict
When sudden embarrassing circumstances occur and you need to unlock your iPhone in an emergency, Tenorshare 4uKey can bring immediate assistance to help you out of the trouble. But as an alternative to cope with the program not working, the one with a higher success rate, Passvers iPhone Unlocker is a rational option to back up. With both of them, you don't need to worry about getting any data or services locked on iOS devices by accident. Just with clicks and you can work it out!