Apple's iOS system boasts various advantages, as the system has high security and stability, the interface is sleek and simple, and the processing is quick and smooth. Great though it is, it's a closed system after all. iOS does not support users installing third-party apps and app stores. So, if you wish to get an app out of Apple Store, it's literally impossible unless you jailbreak your iPhone.
However, jailbreaking is fundamentally a rather complex procedure, and there are limitations in terms of which iOS versions can be jailbroken, with different levels of restrictions on jailbroken devices. But don't worry, if you're determined to jailbreak, we'll provide clear instructions in the following section, so you can find a suitable method for jailbreaking your iPhone depending on your device's iOS version.
Jailbreaking an iPhone: Supported iOS Versions and Device Models
If you are fully aware of the risks you must take and are ready to jailbreak your iPhone, you can check your iOS version and device model here to determine the appropriate method for jailbreaking.
Since most jailbreaking methods exploit security vulnerabilities in iOS or the underlying iPhone hardware, each time Apple releases a new iOS update, it may render some jailbreaking tools non-functional. Developing a new method takes time, and the more secure the Apple system is, the more challenging it is to find a viable approach.
According to multiple authoritative websites and user feedback, there should be no available methods to jailbreak iPhones running iOS versions higher than 16.7.1. Additionally, the success of jailbreaking is influenced not only by your iOS version but also by your iPhone model and chipset.
How can I determine the iOS version and chipset model of my iPhone?
Step 1. Open Settings > General > About, the detailed information about your iPhone will display to you, where you can see the software version and also the iPhone model.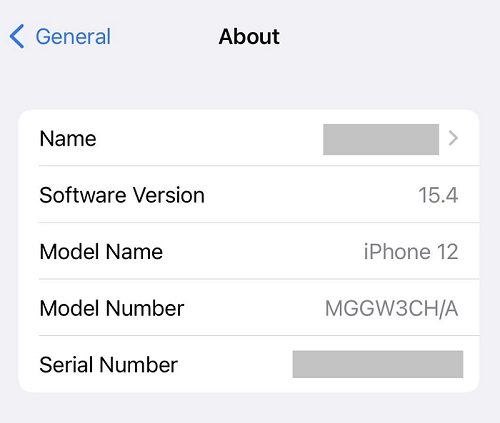 Tips
If you want to confirm your chipset model, simply copy your "iPhone Model" and search for Apple's official information in your web browser (e.g., "iPhone 11 - Technical Specifications"). You'll be able to find the details there.
Step 2. Head to iOS jailbreaking entry at Wikipedia to see if your device is supported, and the available jailbreaking tools.
Tips
Jailbreaking an iPhone also requires you to use a computer, so you need to get a PC or Mac prepared beforehand.
Before Jailbreaking: Back Up Data
A simple but fairly important tip for you before you jailbreak your iPhone: Remember to backup your data.
As mentioned above, jailbreaking is risky, and the worst thing is that you might get a "bricked" iPhone. Also, things can happen when you jailbreak your phone successfully with all the data gone because of something wrong. So, again, BACK UP YOUR DATA.
There are a variety of ways to back up your iPhone. We will just pick the simplest one - use iTunes (or Finder for macOS Catalina or newer).
Step 1. Launch iTunes on your computer.
Step 2. Connect your iPhone to iTunes with a USB cable.
Step 3. Tap the iPhone icon at the top menu, and choose Summary at the sidebar Backups > Back Up Now to copy your iPhone data to iCloud or the computer.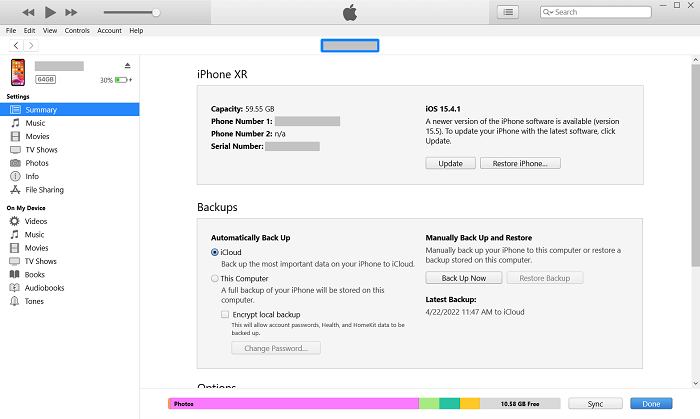 How to Jailbreak iPhone 5s to X With Any iOS Version
checkra1n is the top recommendation to jailbreak iPhone. This tool can jailbreak your iPhone by exploiting a hardware vulnerability existing in A5 to A11 processors, which refers to the iPhone models ranging from iPhone 4S to iPhone X. But currently, it only supports iPhone 5s and above models. To list them all, they are: iPhone 5s/6/6 Plus/6s/6s Plus/SE (1st)/7/7 Plus/8/8 Plus/X (all iPhones with A7 to A11 chips).
Using checkra1n requires you to have a Mac or Linux system. For Windows PC, it will be a bit complex to do so. Here's how to jailbreak your iPhone with a Mac:
Step 1. Download checkra1n.
Step 2. Double-click to open the DMG file of checkra1n in Downloads folder, and drag the checkra1n icon to Applications to install it.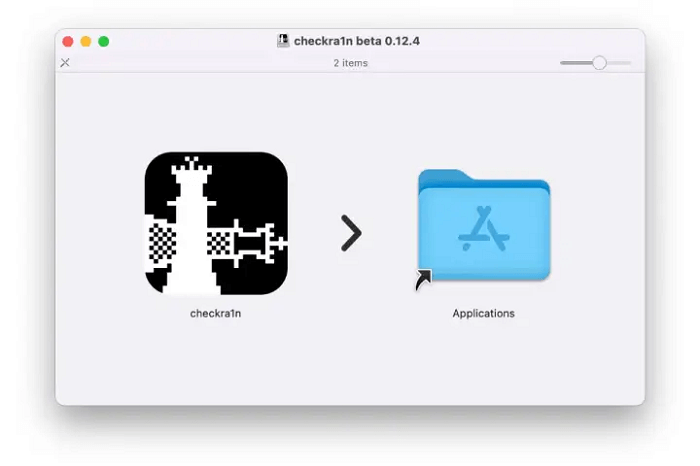 Step 3. Locate the installed checkra1n app in Applications, then right-click the app (not double-click) and choose Open from the menu.
Step 4. You will see a message saying that the macOS cannot verify the developer. Click Open to open it anyway.
Tips
If your iPhone is iPhone 8 or X that is running iOS 14, you will need to disable Face ID or Touch ID before continuing.
Step 5. Connect your iPhone to your Mac with a USB cable, normally you will see a pop-up window asking you to trust the computer. Click Trust and enter Passcode to authorize the computer.
Step 6. Now, the checkra1n app will automatically detect your iPhone and show whether your phone is supported. Tap Start to begin jailbreaking.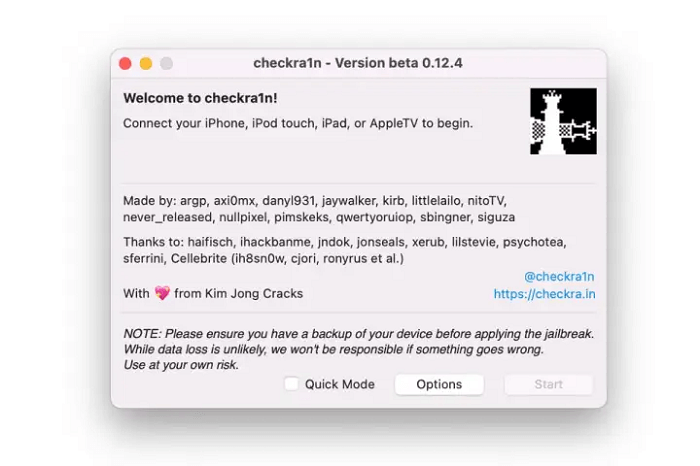 Step 7. To continue jailbreaking, you will need to put your iPhone into DFU mode, which will show a black screen when you successfully enter it. To enter DFU mode, you have to:
Press the side button and the volume down button of your iPhone at the same time.
When the Apple logo appears, release the side button, but still hold the volume button.
The checkra1n app will automatically detect your phone as it enters DFU mode.
Step 8. Wait for the jailbreaking process to complete. Then you will see a checkra1n loader appear on your home screen. Open the app.
Step 9. In the checkra1n app, tap on Cydia to install the package manager. After Cydia is installed, you will able to install third-party apps and utilities via this tool.
How to Jailbreak iPhone XS/XR to 13 With Up to iOS 14.5.1
In order to jailbreak iPhones with newer models, you have to use another tool. Here we will introduce a popular one - unc0ver. Technically speaking, unc0ver only supports iOS version up to 14.3 on its own, but it will be available up to iOS 14.5.1 if you install another tool called Fugu14 to assist it.
Tips
As mentioned, you may need to download Fugu14 if your iPhone is running iOS 14.4 and later.
Make sure you have installed the latest version of iTunes if you are going to use a Windows PC.
Step 1. Connect your iPhone to computer (PC or Mac).
Step 2. Download and install AltServer to your computer.
Step 3. For Mac, launch AltServe from Finder after installation; for Windows, open it at the Start menu.
Step 4. Click the icon in a diamond shape, and choose Install AltServer (name of your iPhone device), and enter the Apple ID and password as it needs. Then, click "Install" to confirm.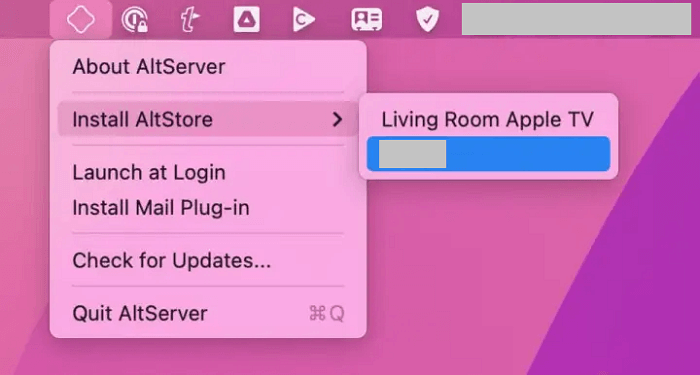 Step 5. For Mac, you will be asked to install a plug-in for Mail. Click Install Plug-in and enter your Mac password. After this, follow the instructions to restart Mail and enable AltPlugin.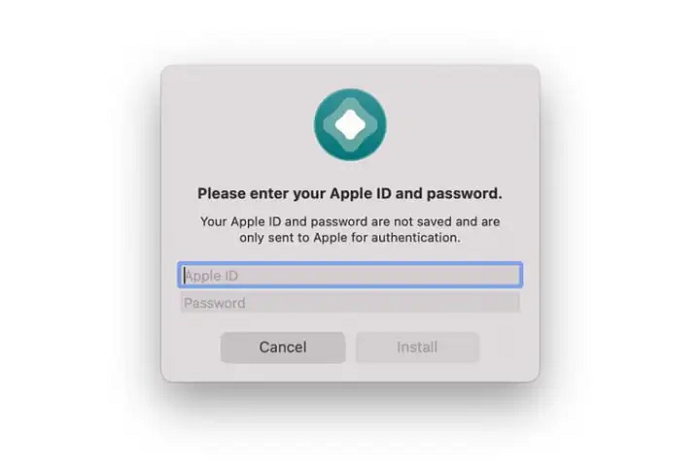 Step 6. Now you will see an AltStore icon appear on the home screen of your iPhone. But it's not the time to open it yet.
Step 7. On iPhone, head to Settings > General > VPN & Device Management. At Developer App, open the line that shows your Apple ID, and tap "Trust". You may need to Trust again for the dialogue box.
Step 8. Open Safari on your iPhone, and paste https://unc0ver.dev and enter.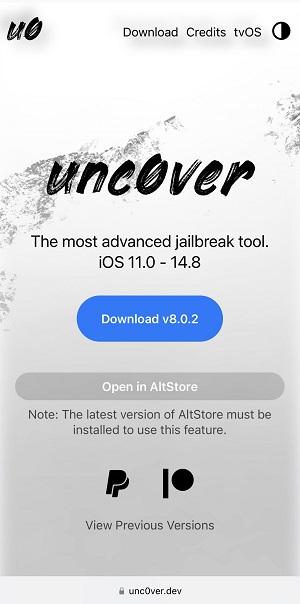 Step 9. Tap Open in AltStore, then the AltStore app should open and begin installing Unc0ver on your iPhone automatically. You may need to enter your Apple ID and password again during the process.
Step 10. Press and hold Unc0ver on your iPhone home screen and tap Open, then choose Jailbreak, and wait for the jailbreaking to complete. You will see the Cydia package manager afterwards.
That's all about how to jailbreak your iPhone and what you should know about it. Hope this article is of help and you can successfully jailbreak your phone as you want.
(Mac & Linux) How to Jailbreak iPhone (iOS 15.0 - 16.7.1) With A8-A11 Chipset
palera1n is a jailbreak still in development, and it's designed to work with A11 (iPhone X) and older devices running iOS 15.0 to 16.7.1. There are some specific considerations to keep in mind when using A11 devices with this jailbreak. Its jailbreaking method is based on exploiting the checkm8 vulnerability present on iOS 15 and above, targeting devices ranging from A8 to A11.
Meeting the conditions mentioned above, the compatible iPhone models include iPhone SE, iPhone 6/iPhone 6 Plus, iPhone 6s/iPhone 6 Plus, iPhone 7/iPhone 7 Plus, iPhone 8/iPhone 8 Plus, and iPhone X.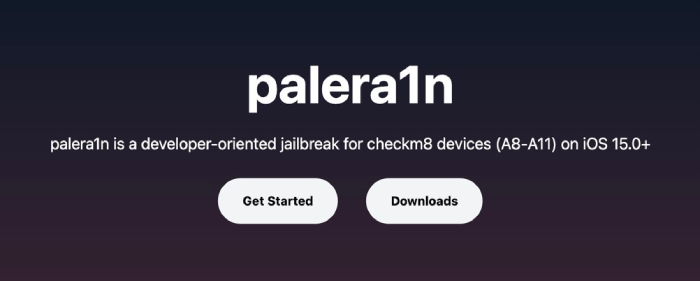 Tips
It's not available for Windows; it's only compatible with macOS or Linux.
When using A11 iOS devices, you need to turn off your passcode while in a jailbroken state.
For iOS 16 with an A11 chipset, and you've previously set a passcode, you'll have to erase all content and settings to enable the jailbreak.
Step 1. Download and Install palera1n, then open a terminal window and run the following code.
● For MacOS
sudo /bin/sh -c "$(curl -fsSL
https:/static.palera.in/scripts/install.sh)"
● For Linux
Run sudo systemctl stop usbmuxd >> Run sudo usbmuxd -f -p >> Open up another terminal window >> Run sudo /bin/sh -c "$(curl -fsSL https:/static.palera.in/scripts/install.sh)"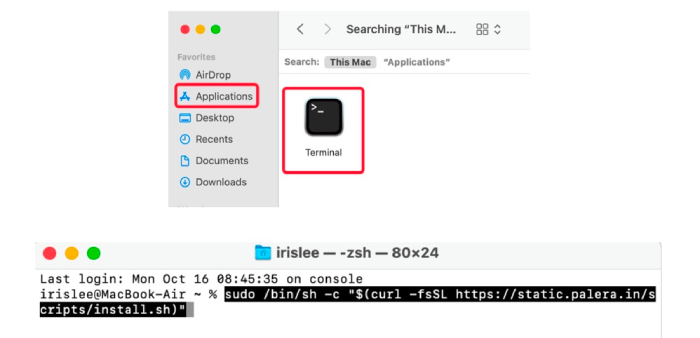 Step 2. To initiate Palera1n on MacOS, simply run "palera1n", or on Linux, launch "sudo palera1n". Once it's ready, hit "Enter" and then follow the on-screen instructions to enter DFU mode.
Tips
For A9(X) and earlier devices, there's a known issue where they can get stuck during the process in pongoOS. To address this problem, you should follow these steps:

In the terminal window, press Control + C.
Rerun the command you executed previously.
You'll need to repeat these steps each time you re-jailbreak your device as well.

Step 3. After your device boots up, launch the Palera1n loader app and tap on Sileo. After a brief moment, you'll be asked to set a passcode for command line use, and once that's done, Sileo should appear on your home screen.
FAQs about How to Jailbreak iPhone
Q: Jailbreaking an iPhone, what does it actually mean?
A: Basically, jailbreaking an iPhone is to replace or modify the components of the iOS operating system with custom applications, so that your device is opened up and breaks through the restrictions of the original iOS. After jailbreaking your iPhone, your phone will be more like an "Android". You will be able to download third-party apps and app stores, customize the looks of the software, or even install another new operating system.
Q: What are the risks of jailbreaking an iPhone?
A: Although legal in some countries like the USA, jailbreaking an iPhone remains an unofficial and discouraged practice by Apple. It involves a complex process with no guaranteed success, and the worst-case scenario is rendering your device unusable ('bricking' it). Additionally, since Apple doesn't officially support jailbreaking, it voids your warranty and prevents your jailbroken device from receiving future iOS updates (although you can attempt to reverse the jailbreak).