Data security is of great concern all over the world nowadays in this era of data. That's why people should regularly back up their iPhone/iPad/iPod. iTunes can help us backup iPhone, iPad, iPod Touch to computer, and with iTunes backups on computer, we may want to ensure that our data won't be exposed to others. That's howiTunes encrypted backup steps in, which can encrypt your iPhone backup with an exclusive password.
In this guide, we will be showing you what is encrypt iPhone backup on iTunes and how to use it to protect your data. Also, if you don't need this feature, we will also show you how to turn off encrypt iphone backup on iTunes, especially how to turn it off when you forgot the iPhone backup password.
What Does Encrypt Backup on iTunes Mean?
Encrypt backup in iTunes means to lock and encode your iPhone, iPad, iPod Touch backups with a password.
By applying iTunes backup encryption, you can not only add an extra layer of security for your significant data but also include information that unencrypted iTunes backup doesn't support:
Your saved passwords
Wi-Fi settings
Website history
Health data
The highlight of encrypted backups on iTunes is that when you need to restore an encrypted iPhone backup, you'll be asked to "Enter the password to unlock your iPhone backup." When entering the password, some users confused the iTunes backup password with iTunes password. You should know that iTunes backup password is usually different from iTunes password.
iTunes backup password: the password that is created when you turn on Encrypt iPhone backup feature in iTunes. And the password will be needed when you want to restore a encrypted backup from iTunes. It is important to remember the iTunes backup password, otherwise, you won't be able to use your iPhone backup in iTunes.
iTunes password: the password that is used to log in iTunes Store. In most cases, iTunes password is the password of your Apple ID.
iTunes doesn't by default encrypt a backup, so you have to enable iTunes backup encryption by yourself. In the following section, I'll show you how to encrypt an iTunes backup.
How to Encrypt An iTunes Backup?
To protect your iTunes backup with a password, you should above all download and install the latest version of iTunes on your Windows or Mac computer. Then, follow the steps below.
Step 1. Launch iTunes on your PC.
Step 2. Use USB cable to connect your iPhone and iTunes.
Step 3. Click on the Phone-like icon to access "Summary" page.
Step 4. Scroll down to "Backups" section and tick up "Encrypt iPhone backup" option.
Step 5. Set a rememberable password twice and click on "Set Password".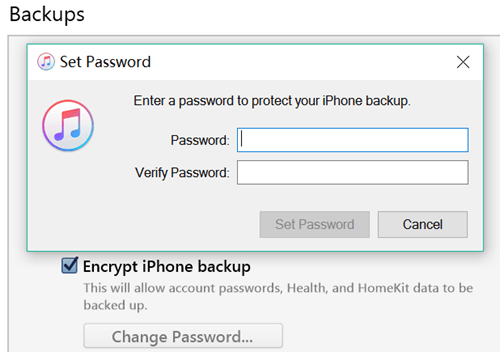 Step 6. Now, iTunes will start backing up your iPhone. Please wait until the process finishes and make sure devices stay connected until it completes.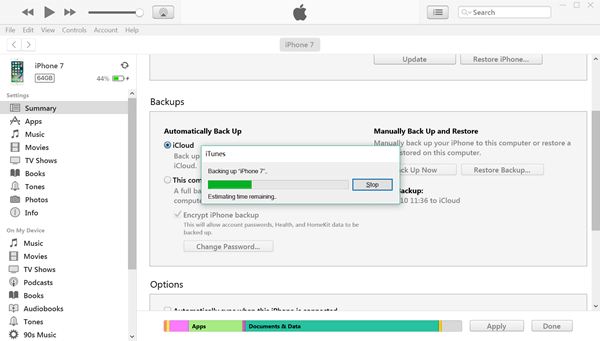 Again, you should know that no one can access or restore the encrypted iTunes backup with password, not even the Apple itself. So it is really important for you to remember the password of your encrypted iPhone backup in iTunes.
How to Check Whether The Backup Is Encrypted?
If you're not sure whether or not the backup is encrypted, you can go for a check by yourself. However, the steps are a bit different on a Windows PC and Mac computer.
Step 1. On Windows PC, open iTunes, at the top panel bar, select "Edit" and click on "Preferences". And in iTunes on a Mac, from the menu bar at the top of your computer screen, please select "Edit" and click on "Preferences".
Step 2. Click and choose the "Devices" tab.
Step 3. You're able to check out the backups in the middle with information like device name, backup date and time. If the backup is encrypted, you should see a "Lock" icon to the right of your device's name.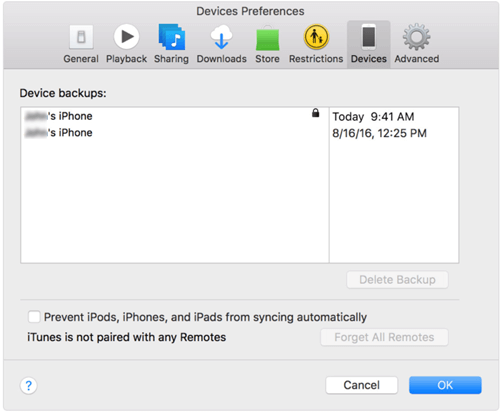 How to Turn Off iTunes Backup Encryption?
If you don't need to encrypt the iTunes backup, you can turn the encryption off. It's easy to do so. What you should do is to navigate to "Summary" page and uncheck the "Encrypt iPhone Backup" option. Then, a window pops up asking you to enter the password to unlock your iPhone backup. Type in your password and the Encrypt iPhone backup feature will be disabled.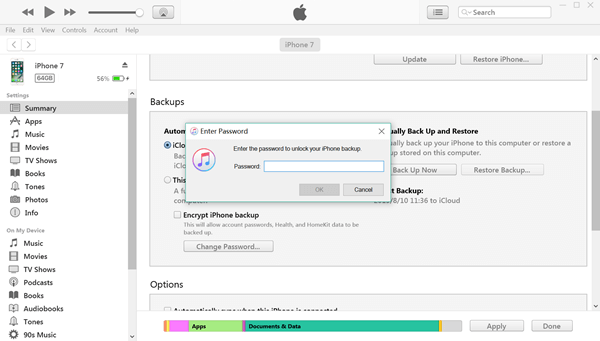 How to Turn Off Backup Encryption in iTunes without the Password
But if you forgot the iPhone backup password? It have happened to so many users. Without the iTunes backup password, not only that you can't restore your iPhone backups in iTunes, but also you can't turn off the Encrypt iPhone backup feature, which means you cannot use iTunes to back up your devices altogether. But the good news is that you can actually turn off backup encryption in iTune without the password. Here is how to do so.
If your device runs on iOS 11 or later, go to Settings > General > Reset > Reset All Settings. This won't delete your personal data but will erase iTunes backup password as well as reset settings like display brightness.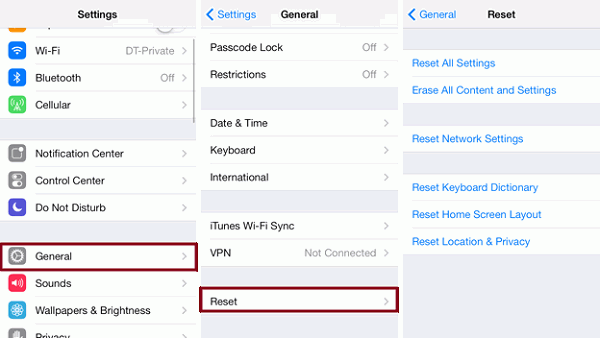 After erasing the old password, you can connect your iPhone with iTunes and create a encrypted backup with a new password. With the new password, you can turn off iTunes backup encryption.
But if your device runs on iOS 10 or earlier, there is no way to reset iTunes backup password. And if you want to restore the encrypted backups without the password, a iTunes backup password recovery tool may be able to help you.