Have you ever been frustrated that your iPhone keeps restarting? It can be quite bothersome when we are engrossed in an app or an important task, and suddenly our iPhone keeps restarting itself. Not only does it interrupt our work or entertainment, but it can also result in data loss or other inconveniences.
In general, the reasons that can cause an iPhone to keep restarting are as follows:
Software issues: errors or conflicts in the iOS system or applications
Hardware problems: battery issues, faults in the power management chip, or other internal component failures
Overheating: prolonged usage under high load, exposure to high temperatures, or blocked device ventilation
Insufficient storage space: the device's storage space is nearly full
Viruses or malware: the device becomes infected
While the reasons may vary, this post will introduce you to 8 practical methods to solve the issue of your iPhone keeps restarting over and over. It will cover everything from simple software adjustments to troubleshooting hardware problems. Let's take a look at these methods together!
My iPhone Keeps Restarting: Two Symptoms
Based on the symptoms and causes, iPhone keeps restarting issues can be categorized into two types: intermittent restarts and continuous loop restarts.
Symptoms of Intermittent iPhone Restarts
The iPhone spontaneously restarts during usage, but not frequently.
After restarting, the iPhone generally functions normally for a period before automatically restarting again.
There might be signs of app crashes or device slowdowns.
Symptoms of Continuous Loop iPhone Restarts
The iPhone gets stuck in an infinite loop displaying the Apple logo during the startup process.
The device turns off abruptly after starting up, displays the Apple logo again, and restarts the cycle repeatedly.
This looping process continues endlessly, preventing normal access to the device's user interface.
How to Fix iPhone Keeps Restarting:
Note:
Regardless of which method you choose to fix iPhone keeps restarting, we recommend you perform a data backup first. This ensures that your important data is safely stored in case any unforeseen issues occur during the troubleshooting process.
How to Fix iPhone Keeps Restarting Intermittently
If your iPhone is experiencing intermittent restarts and you have access to the operating system, there's no need to worry too much. This situation is usually caused by some software issues or external factors. These problems can be easily resolved, and you can try the following 3 methods as a first step:
1. Update iOS and Apps
Updating iOS and apps can solve intermittent restart issues on your iPhone by fixing software bugs, improving compatibility between apps and the operating system, and providing security patches to prevent malicious activity that may cause unexpected restarts.
Check for iOS updates
Go to the "Settings" page on your iPhone.
Scroll down and tap on "General".
Select "Software Update".
If an update is available, tap on "Download and Install" and follow the on-screen instructions to update your iOS to the latest version.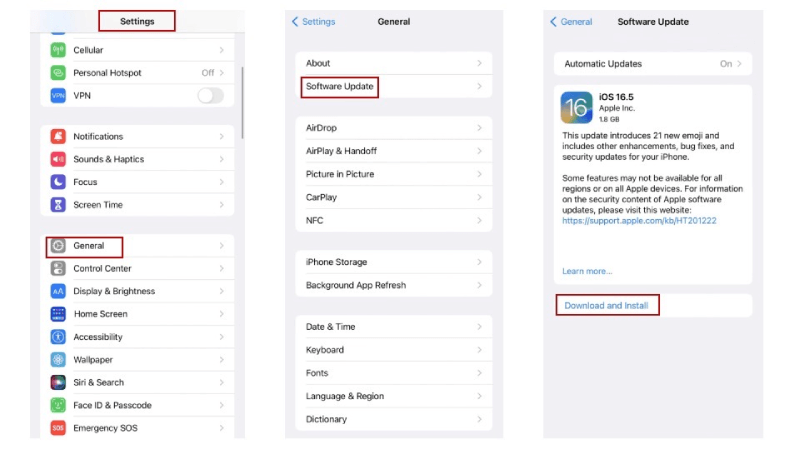 Update your apps
Open the "App Store" on your iPhone.
Tap on your profile picture at the top right corner.
Scroll down and you'll see a list of apps with available updates.
Tap on "Update" next to each app to update them individually, or tap on "Update All" to update all the apps at once.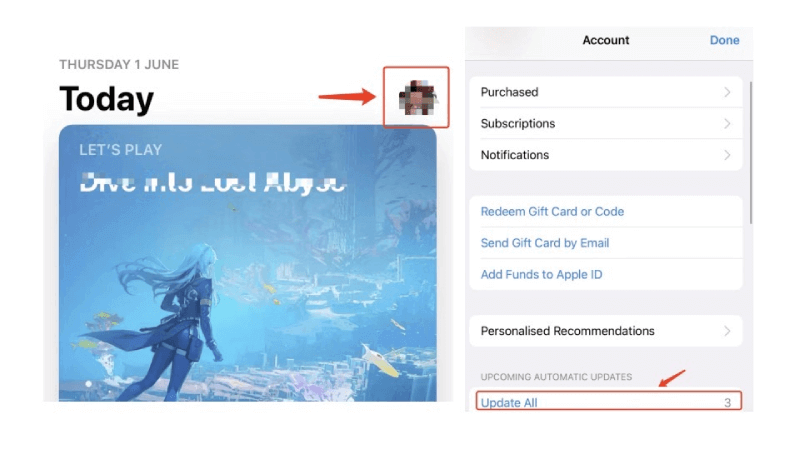 2. Delete Apps that Cause iPhone Keeps Restarting
If updating doesn't work, you can try deleting problematic apps, which can also help solve the issue of iPhone keeps restarting, because some apps may have compatibility issues or bugs that cause frequent restarts. By removing these apps, you eliminate the source of the problem and allow your iPhone to function without interruptions:
Find the app on your Home Screen and press and hold its icon.
Select either "Remove App" or "Delete App" from the options that appear.
Confirm the deletion by tapping "Delete" when prompted.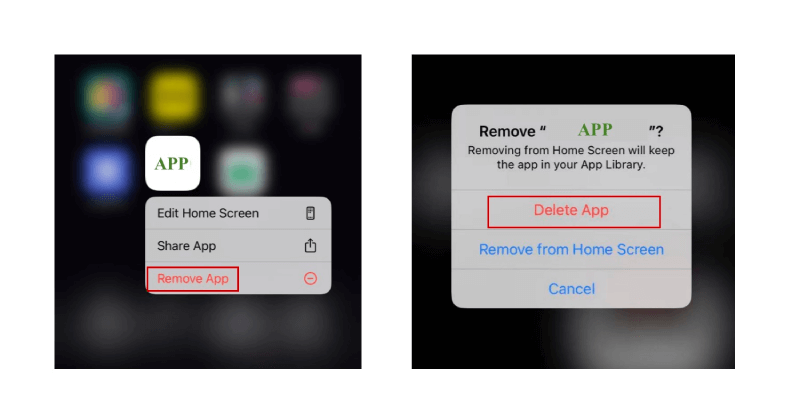 3. Reset All Settings
Additionally, resetting all settings on your iPhone can also be a useful method to fix the issue of iPhone keeps restarting. By performing this reset, you have the opportunity to revert all system settings back to their default state, which can help eliminate any misconfigurations or conflicts that might be causing intermittent restarts:
Go to the "Settings" page on your iPhone.
Scroll down and tap on "General".
Scroll to the bottom and select "Transfer or Reset iPhone".
Click "Reset" at the bottom of the page.
Choose "Reset All Settings" from the available options.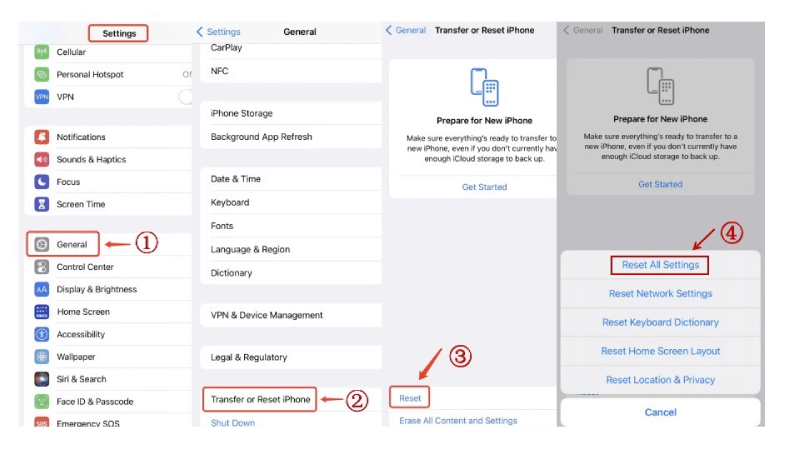 How to Fix iPhone Keeps Restarting Loop
If your iPhone is stuck in a continuous loop of automatic restarts and you are unable to operate your phone or even if your iPhone fails to start up, the previously mentioned methods may not be applicable. In such cases, you will need to resort to more forceful measures to resolve the issue of iPhone keeps restarting.
4. Force Restart
Firstly, you can try Force Restarting your iPhone. While a Force Restart may not resolve all issues, it is a simple and commonly used troubleshooting method to stop your iPhone from keeping restarting.
The method to force restart an iPhone varies depending on the model you have. You can follow the corresponding steps below to force restart your iPhone:
# For iPhone 8 Series and later (including iPhone SE 2nd)
Press and let go of the Volume Up button, and then the Volume Down button.
Press and hold the Side button.
Release the Side button when the Apple logo appears.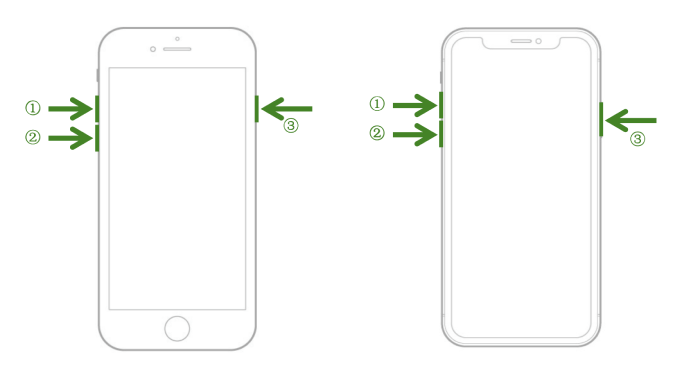 # For iPhone 7 Series
Press and continue holding both the Volume Down button as well as the Side button.
Release both buttons when the Apple logo appears on the screen.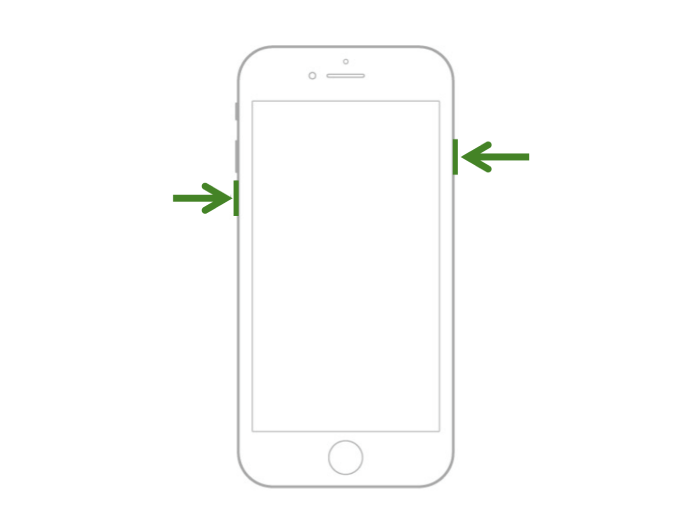 # For iPhone 6 Series, iPhone SE(1st generation), Earlier iPhone Models
Press and hold both the Top/Side button and the Home button.
Release both buttons when the Apple logo appears on the screen.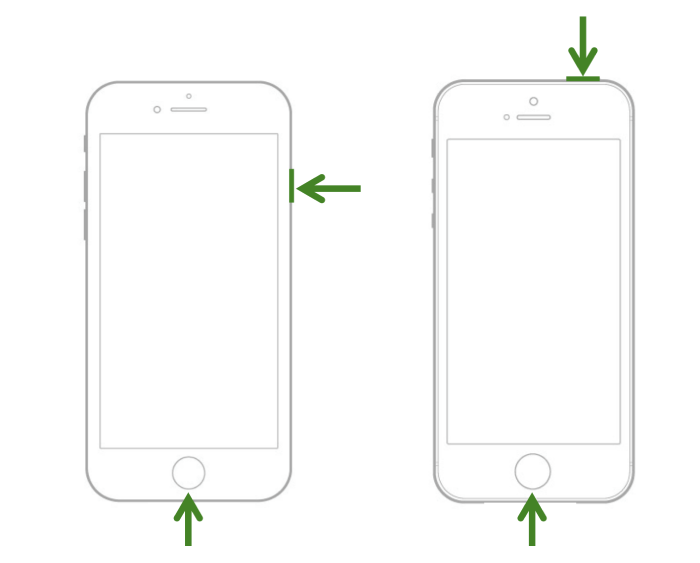 5. Check the Hardware
Another potential cause of the iPhone restarting loop problem could be some hardware issues:
A worn-out battery: If the battery of your iPhone is identified as the culprit, you can resolve the issue by simply replacing the faulty or worn-out battery.
An unclean Lightning port: If your iPhone keeps restarting while charging, make sure the Lightning port is clean. Remove any pocket lint, dirt, or debris that may have accumulated, as it can hinder the charging process. After cleaning the charging port, try charging the device again. If the problem continues, attempt charging with a different cable.
Frequent drops: If your device has recently experienced a significant drop, it's possible that there could be a hardware problem causing your iPhone to get trapped in a restarting loop. And if the damage is severe, it's recommended to contact Apple Support or visit an authorized service center for help.
6. Pull out Your SIM Card
A connection issue with the wireless carrier can also be the reason for trapping your iPhone in a restart loop. A simple and effective solution is to remove and reinsert the SIM card. Here's how you can do it:
Power off your iPhone completely.
Insert the ejector tool (or a small safety pin) into the SIM card tray slot to eject it.
Take out the SIM card from the tray.
Wait for a few seconds and then place the SIM card back into the tray.
7. Restore Your iPhone
If you reach this point, there is still one ultimate solution for you to address the issue of iPhone keeps restarting: restoring your iPhone with iTunes. This method can often resolve persistent software issues that may be causing the restart problem.
However, it's important to proceed with caution as restoring your iPhone will erase all data on it. Therefore, it is highly recommended to back up your important data beforehand to ensure its safety. Here are the specific steps to restore your iPhone:
Step 1. Connect your restarting iPhone to a computer with the latest version of iTunes installed(for Windows and macOS Mojave and earlier), or with an opening Finder (for macOS Catalina and later).
Step 2. Put your iPhone into Recovery Mode.
Step 3. Once your computer successfully recognizes your device, you will be presented with two options: "Restore" or "Update". Click on the "Restore" button to begin the restoration process.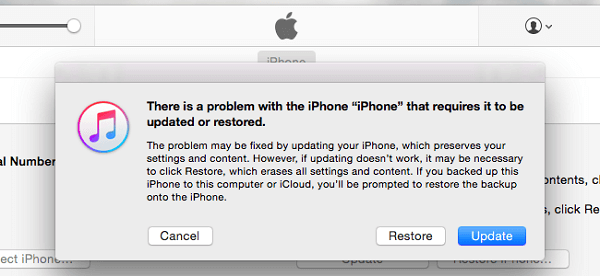 Step 4. Follow the on-screen instructions and wait for iTunes/Finders to complete the restore process.
Once the restore is finished, your iPhone will restart and you can set it up as a new device or restore it from the backup you created.
💡How to Fix iPhone Keeps Restarting with Passvers iOS System Recovery
While the above methods are practical, they require time and step-by-step troubleshooting. If you're in a hurry to stop your iPhone from automatically restarting, we recommend using professional iOS repair software like Passvers iOS System Recovery.
Outstanding Features of Passvers iOS System Recovery:
User-Friendly: Clear and intuitive instructions ensure a seamless experience.
Extensive Compatibility: Works seamlessly with a wide range of iPhone models.
Swift Resolution: Resolve iPhone keeps restarting issues within minutes, no need for iTunes or passwords.
Comprehensive Solutions: Offers 3 distinct modes to tackle iPhone problems of varying severity, catering to different levels of complexity.
- Free Quick Fix: Completely free and guarantees data safety.
- Standard Mode: Safeguards your data; recommended if your device isn't automatically detected.
- Advanced Mode: Erases data; recommended if Standard Mode fails to resolve the issue.
Passvers iOS System Recovery provides a convenient and efficient solution to fix various iOS issues, including iPhone keeps restarting, with just a few clicks. It can help you save time and quickly restore your iPhone to normal without the risk of data loss. With the following 5 simple steps, you can stop your iPhone from keeping restarting itself:
Step 1. Download and install Passvers iOS System Recovery on your PC or Mac. Then, launch the program and simply click on "Start".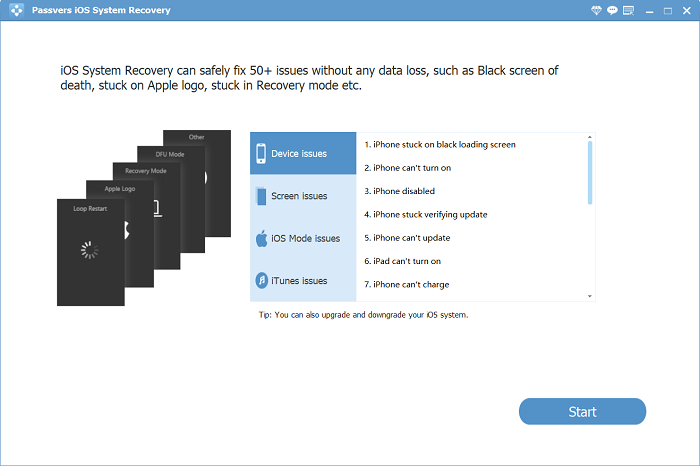 Step 2. Connect your iPhone to your computer with a USB cable, and then choose an appropriate mode to proceed with repairing.
Tips: the priority of selecting a mode
Normally, Passvers iOS System Recovery will detect your device automatically, so you just need to click the "Free Quick Fix" option displayed in the middle of the screen to begin the repair process.
But, if your device failed to be detected, you can select the "Standard Mode" (or if needed, the "Advanced Mode") and click "Confirm" to move on.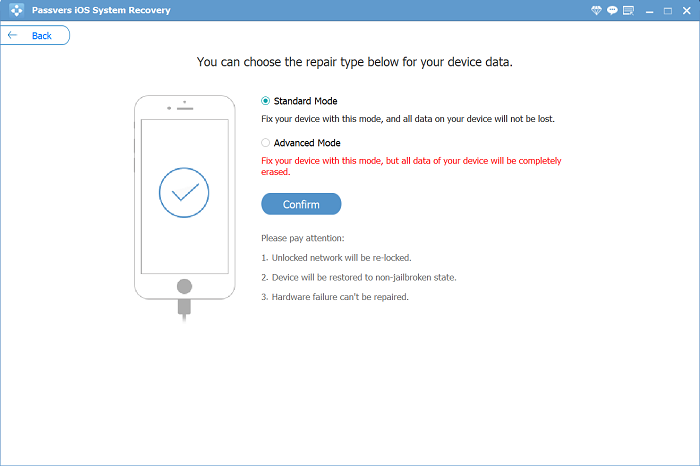 Step 3. Enter Recovery Mode on your iPhone by following the on-screen instructions.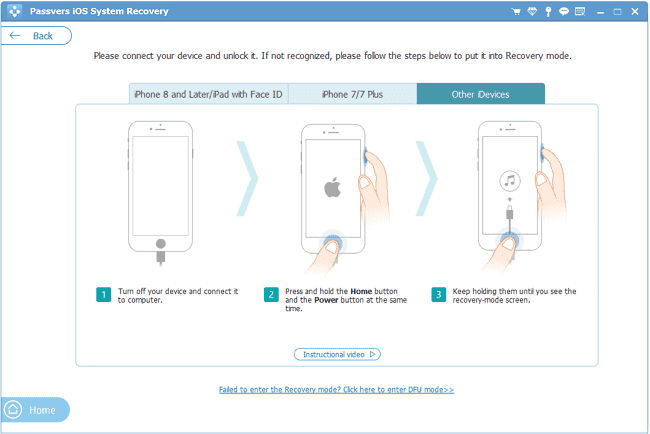 Step 4. Passvers iOS System Recovery will automatically recognize your iPhone and provide the corresponding firmware package tailored for your device. But, if the automatic detection fails, you can also manually select the firmware package that corresponds to your iPhone model. After making your selection, simply click "Next" to initiate the firmware download process.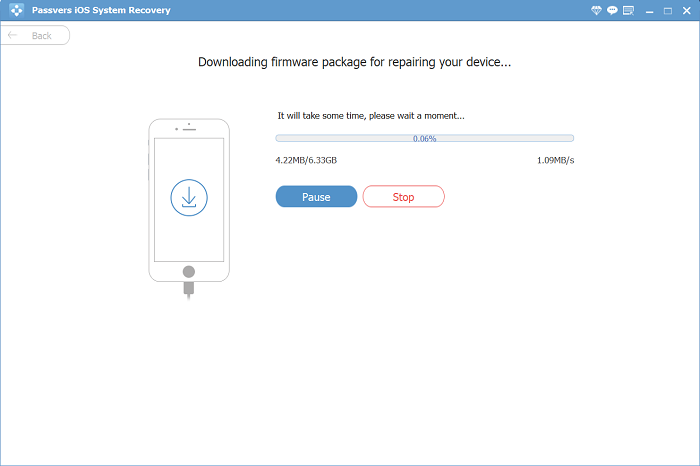 Step 5. The repair process will start automatically, fixing your iPhone from keeping restarting. It will take a few minutes to complete, so just wait patiently and the problem will be solved.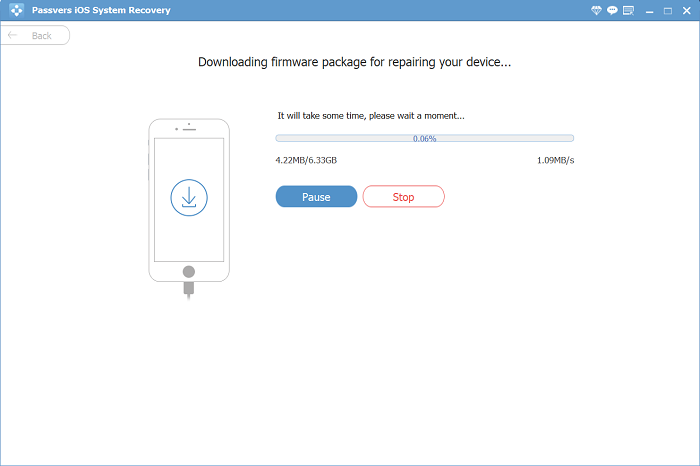 Conclusion
Dealing with an iPhone that keeps restarting can be incredibly frustrating. Hopefully, the various solutions showcased in this post, ranging from software adjustments to hardware checks, will effectively help you overcome this annoyance.
Of course, the most convenient and time-saving option is to use Passvers iOS System Recovery. As professional third-party software dedicated to fixing iOS system issues, it consistently delivers quick resolutions for various iPhone problems, including the persistent restarting issue, all while ensuring the safety of your data. Don't hesitate any longer — go ahead and download it for free to give it a try!