MDM as an essential tool to manage data and improve productivity as well as efficiency, many companies, schools, and other institutions often distribute devices with MDM installed to their employees or students. But if some devices that are later useless for the organizations, removing them from the MDM list which can enable their full functionality is a better choice.
So, how to remove MDM from iPad/iPhone? No worries. In this post, we will guide you on how to quickly and safely remove MDM from your iPad or iPhone, allowing you to regain full control over your device. Let's get started!
What is MDM on iPhone/iPad?
Firstly, it's essential to have a basic understanding of what MDM stands for.
MDM (Mobile Device Management) streamlines device management for organizations, enabling consistent deployment, application management, and security. It enhances supportability, security, and functionality while offering user flexibility. Users and organization-owned devices can be easily enrolled for management.
iPhone/iPad MDM works by connecting the device to a central management server. Through this connection, administrators can remotely manage and control the device. They can enroll the device, apply configurations, distribute apps, enforce security policies, and monitor the device's usage. MDM enables efficient device management from a central location, ensuring compliance with organizational guidelines and enhancing data security.
Also, with MDM on your iPhone/iPad, it can be locked as long as the administrator sets the device as the lost mode, and you cannot use any functions of the iPhone/iPad then.
Benefits for iPhone/iPad MDM Removal
As mentioned earlier about how MDM works, it becomes clear that removing MDM from your iPad/iPhone is indeed necessary. MDM removal brings significant benefits in below:
Customize settings according to needs
Install apps freely
Enjoy unrestricted device features
Conflicts with apps or functionalities will be resolved
Privacy will get enhanced
Now, you may wonder how to remove MDM from iPad/iPhone and get the full control of your device. Just keep reading and find the answers!
🔥Easiest Way to Remove MDM from iPhone/iPad
To remove MDM from your iPad or iPhone, we highly recommend you a professional MDM removal tool - Passvers iPhone Unlocker. It focuses on iOS unlocking issues, including removing MDM, wiping Screen Lock, removing Apple ID, wiping Screen Time Passcode, and bypassing iCloud Activation Lock.
Luckily, whether your device is in normal use, lost mode, or locked as a disabled device, Passvers iPhone Unlocker can efficiently and quickly resolve the MDM removal issue, helping you regain full ownership of your device. We've tested this tool with universally-used MDM providers like IBM, ManageEngine, and VMWare, and results prove that Passvers can deal with them well. Therefore, you only need to believe this professional iPad/iPhone MDM removal tool and let it do all things to remove MDM for you.
Key Features of Passvers iPhone Unlocker:
User-Friendly Instructions: Easy-to-follow steps for all users.
Data Integrity: No data loss during MDM removal.
Latest iOS Compatibility: Works with the latest iOS versions.
Cross-Platform Support: Compatible with Windows and Mac.
High Success Rate: Efficiently removes MDM from devices.
With its exceptional features, Passvers iPhone Unlocker makes removing MDM from your iPad/iPhone a breeze. Now, let's take a look at a step-by-step demonstration of how to quickly remove MDM from both normal and problematic devices!
◉ Devices that are functioning properly:
Step 1. Download Passvers iPhone Unlocker and open it. Choose "Remove MDM" then "Start Removing" of Work Properly, and then connect your device to your computer with a cable.
Step 2. Once connected successfully, click on "Start" and follow the instructions to check if "Find My" is turned off.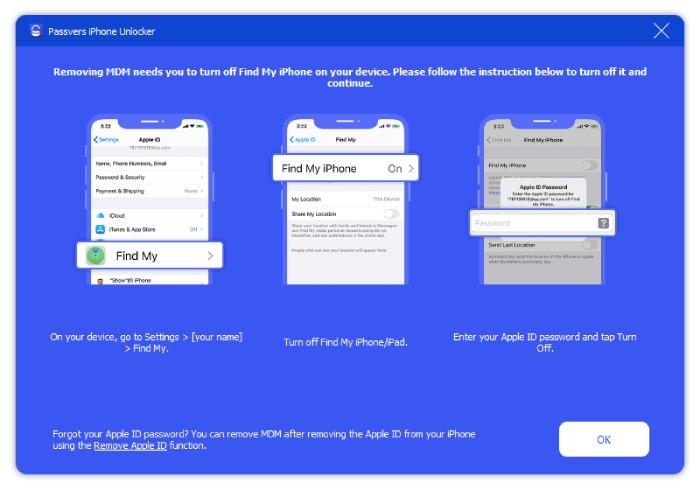 Note:
If "Find My" is on, you will need to turn it off first. Otherwise the MDM removal process will not move on.
If "Find My" is off, the program will automatically remove the MDM after you click "Start".
Step 3. The removal process won't take much time, so please be patient. Once the MDM removal is complete, your device will automatically restart, and you will no longer be subject to remote management.
◉ Devices that are Disabled:
Step 1. Download and launch Passvers iPhone Unlocker. Choose "Remove MDM" then "Start Removing" of Disabled, and simply enter "0000" in the input field.
Step 2. Connect your device to the computer and follow the detailed instructions to put your device into Recovery Mode.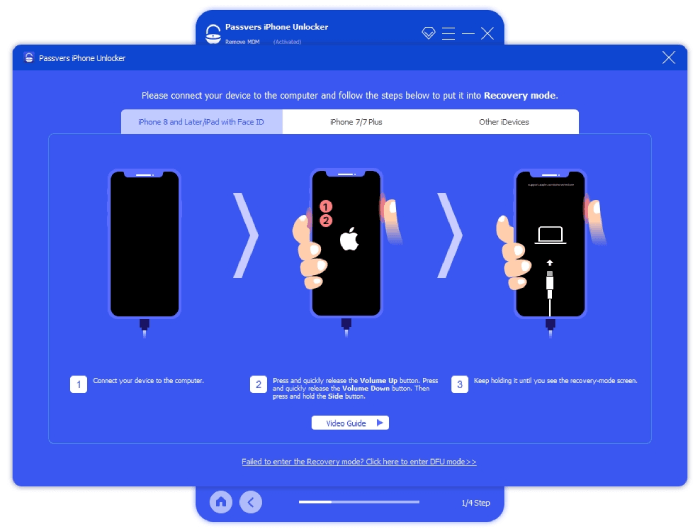 Step 3. Select the device information that corresponds to your device (including category, type, model, etc.). Click "Start" to download the corresponding firmware package.
Step 4. Once the firmware installation is complete, click "Device Activated" on the desktop and simply click "Got it" of the following reminders. Continue to wait until your mobile device's screen displays the "Hello" interface and manually activate the device. Afterward, your device will restart automatically, indicating that the MDM removal has been successful.
Note
If you still worry about data loss due to some unexpected issues, you can choose to back up your device via iTunes. As a profile added to the device itself, MDM won't be part of the backup for iTunes. So, MDM won't be copied into the backup file on iTunes.
How to Remove MDM from iPad/iPhone in Settings
If you don't have a computer or prefer not to use third-party tools, you can try this method to remove MDM on iPhone for free through Settings. Let's take a look at the specific steps:
Note:
An important prerequisite for this method is that you must know the account password for your device. If you don't know that, it is highly recommended you try Passvers iPhone Unlocker to help you safely remove MDM from your iPad/iPhone.
Open your iPhone or iPad and navigate to "Settings" > "General".
Scroll down and tap on "VPN & Device Management".
Select the MDM Profile from the list.
Tap on "Remove Management"..
If prompted, enter your login information.
The MDM on your device will be successfully removed.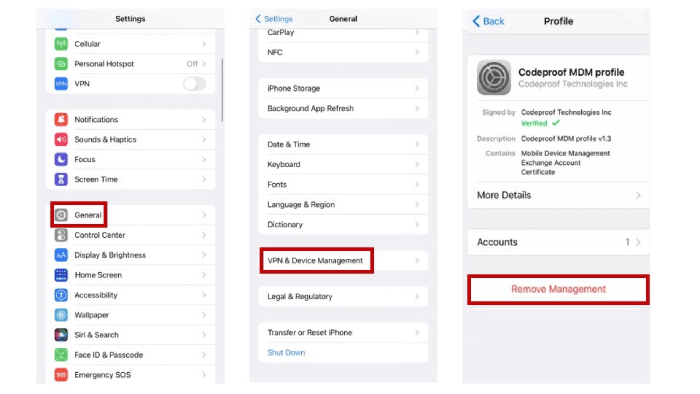 How to Remove MDM from iPad/iPhone via Jailbreak
If you want to remove MDM from your iPad/iPhone without a password and without using a computer, you can consider trying using jailbreak to remove MDM.
Jailbreaking is a process commonly used by many individuals to gain unrestricted access to their iPhone or iPad. By jailbreaking your device, you essentially break free from the restrictions imposed by the manufacturer, allowing you more freedom to customize and modify your device.
Consequently, by jailbreaking your iPad or iPhone, you can successfully remove the MDM configuration as well. But the process of it can be complicated and time-consuming, making it less recommended for MDM removal.
FAQs about iPad/iPhone MDM Removal
What is MDM Profile iPhone/iPad?
A: An MDM profile is a specific configuration or set of settings applied to a mobile device through the MDM solution. It acts as a blueprint for managing the device according to the organization's policies and requirements. The profile is usually created and deployed by the MDM server to the enrolled devices. It contains various settings and restrictions that dictate how the device behaves, what applications are allowed, and what security policies are enforced.
How to check whether my iPhone/iPad is MDM Managed?
A: To check for MDM on iPhone/iPad, open the Settings app and look for notices on the main page, under Settings > General > About, and in Settings > General > VPN and Device Management. Connecting your iOS device to iTunes may also display a pop-up indicating supervision by another computer. These are signs that suggest the presence of MDM on your device.
Will iPad/iPhone MDM removal erase my data?
A: Some methods of removing MDM may result in data loss, so it is recommended to back up your data before attempting MDM removal. If you want a simple and worry-free MDM removal process, you can try using Passvers iPhone Unlocker. It is efficient, secure, and does not cause any data loss.
Will factory reset iPhone/iPad remove MDM?
A: Pitifully, even if you factory reset your iPhone or iPad, MDM will still remain on the device. It's downloaded as a profile on your iPhone/iPad and is paired with the firmware, which won't be removed just by factory reset, nor erasing all content and settings. Therefore, using the best iPad/iPhone MDM removal tool like Passvers iPhone Unlocker is always a good choice.
Conclusion
Removing MDM from iPad/iPhone allows you to free your device from certain restrictions and supervision, enabling you to use it with more freedom. There are several methods available to remove MDM, including removing it from the settings, performing a factory reset, or even jailbreaking. However, the simplest and data-loss-free method is to use Passvers iPhone Unlocker. With this tool, you don't need any technical background as it provides clear instructions for each step. Download it for free and give it a try today!